Recordatorio: Lanzamos el proyecto + descuento
♠️ ALL4MARKETPLACES
Salimos, por fin. Han sido semanas currando duro y ha valido la pena.
Nuestra formación online avanzada en marketplaces sale con 28 clases:
Amazon Vendor y Seller
Qué es Born To Run y cómo usarlo

Amazon A9 a fondo

Amazon's Choice: qué es y cómo conseguirlo

Listing completo de 0 a 100

Análisis de sentimientos en fichas de producto

Cómo encontrar una categoría poco competida
Clases de profes invitados
Cálculos de CPC en Amazon Advertising por Rubén Jerez (socio fundador de B2Marketplace.com)

Epinium la herramienta todas las agencias necesitan, por Carlos Martínez (CEO de Epinium)

Logística, performance y clientes, por Carlos Mestres (CEO de eTuyo, CometicaTOP…)

Marketplaces en China por Chen Yue (Head of Digtal y Global Digital Marketing and Ecommerce en Laboratorios Phergal)

Estrategia de entrada en los Marketplaces por Nacho Somalo (Doctor en Economía Aplicada, exPresidente de Alice.com, fundador de Lonesome Digital…)
Black y Grey Hat
Encontrar PRODUCTOS TOP sin Stock

Llévate clientes de AMAZON a tu WEB

Cómo ver el Stock de la Competencia en Amazon
Y más cosas. Obviamente iremos subiendo nuevas clases cada mes.
♠️ ¿CUÁNTO CUESTA?
La membresía mensual son 49€.
La anual, 490€.
Como oferta de lanzamiento, ofrecemos:
Membresía mensual: sin matrícula (49€ que te ahorras)

Membresía anual: 2 meses gratis y sin matrícula (147€ que te ahorras)
Puedes pagar con Visa o Paypal.
♠️ CÓDIGOS DE DESCUENTO
Como lectores fieles de la newsletter, os damos estos dos códigos de descuento extra:
NEWSMES: 10% dto adicional, para siempre

NEWSANUAL: 20% dto adicional, para siempre
♠️ ¿QUÉ CONDICIONES TIENE?
Sin permanencia

Contrates anual o mensual, todo el contenido está incluido

El pago es 100% seguro, faltaría más

Haremos 2 directos al mes resolviendo dudas de los miembros

eBook "Guía de venta en Amazon" de regalo​​ (430 pgs.)

Y, sí, hacemos factura
♠️ MUCHO TEXTO, RESÚMEMELO: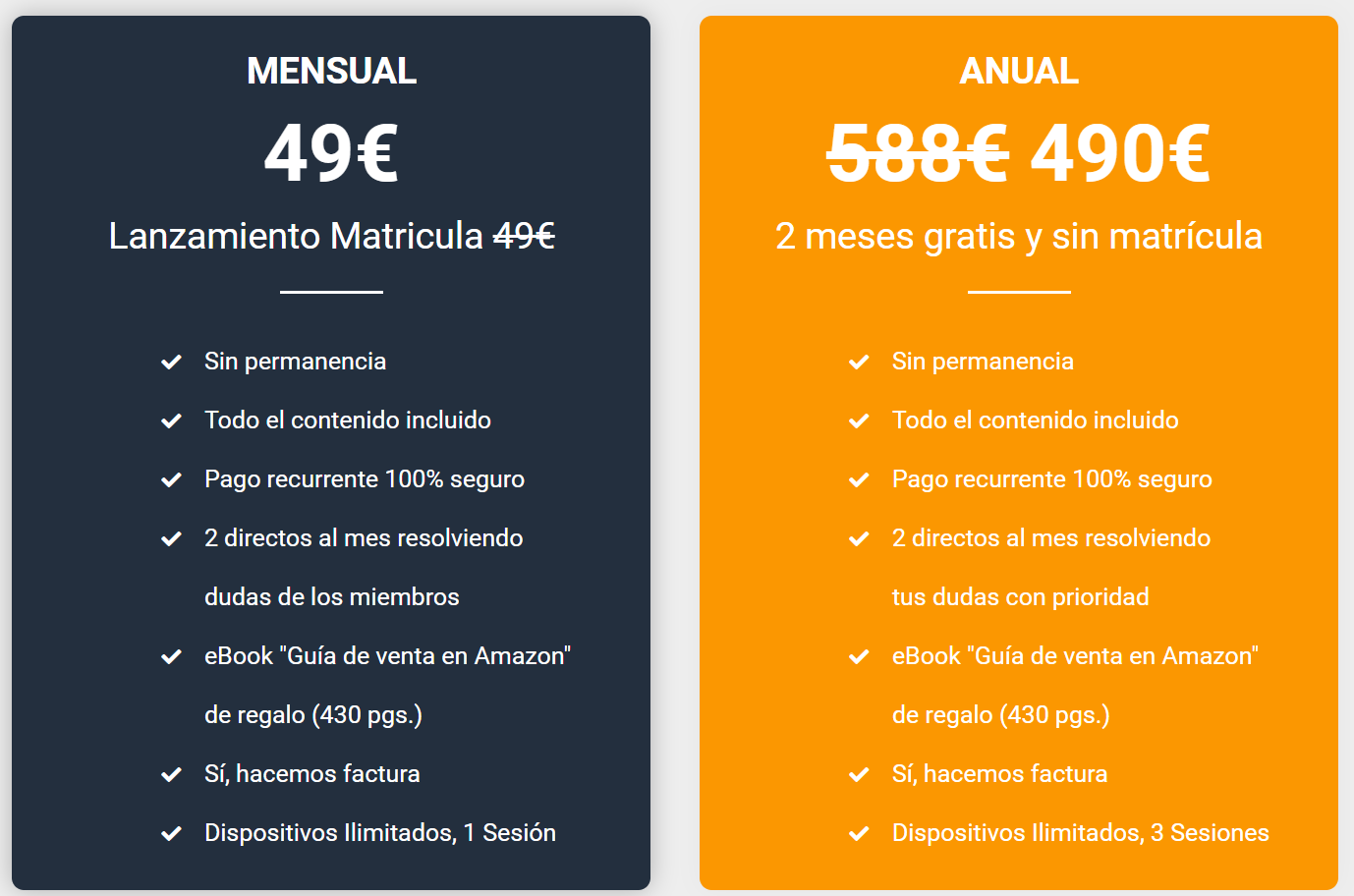 David y Jordi